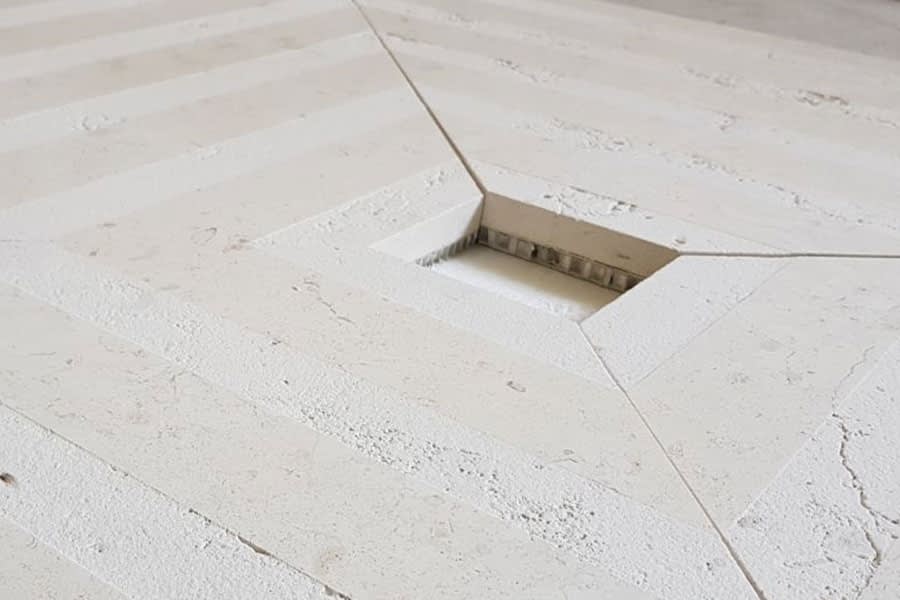 Lightened Marble with aluminium honeycomb
The term lightweight marble refers to an artefact produced in the stone industry through the combination of marble and honeycomb panels. Marble is famous for its hardness and durability, but this is true under conditions of high thickness. When thickness is reduced to decrease the weight of the slab, it starts to become brittle. Thus, when decreasing thickness, it is necessary to provide a support which prevents breakage. We could say that lightened marble resembles a veneer or a marble skin. Available in a minimum thickness of 5 mm, it is a very expensive product especially due to the presence of aluminium or pvc honeycomb.
Among lightened marble products are: shower trays, washbasins, lift interiors, tables and furniture. More generally, the naval, aviation and luxury sectors make use of this type of marble. Furniture made with this technique follows a precise working process, resulting from a combination of different knowledge. Lightened marble weighs approximately 14 kg per square metre and it is possible to generate slabs of up to 310 × 150 cm, a much-larger size than the standard marble slabs found on the market. It is important to know that as the aluminium cells decrease, the rigidity and strength of the slab increases. Mondo Marmo Design is able to handle the cutting, resining and bonding processes through highly qualified personnel.