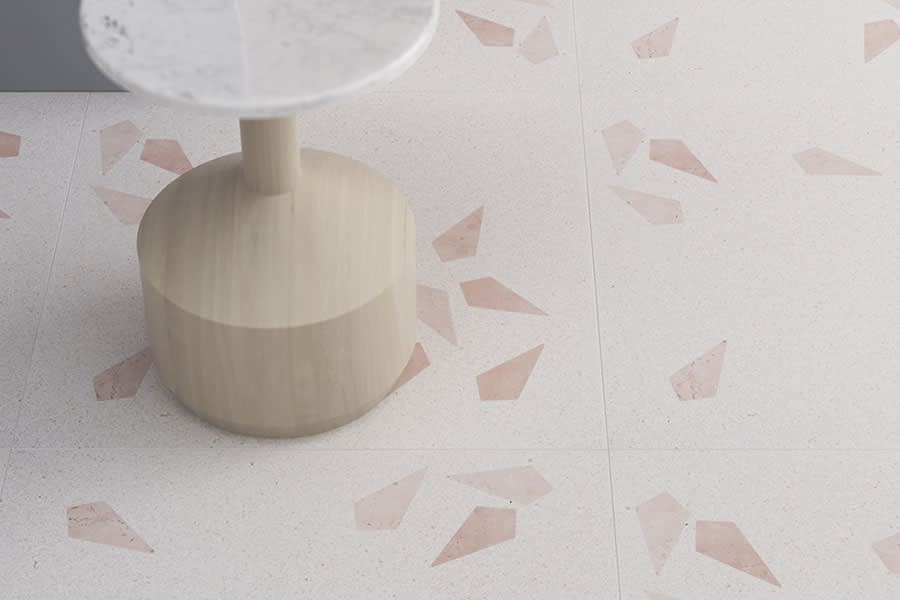 Terrace with customised decoration
Rialto is the modern reinterpretation of the ancient paving known as 'terrazzo alla veneziana'. In ancient times, pebbles, building debris ,and artefacts were mixed together with lime as a binder. It was only with the advent of electricity and cement that the paving began to be smoothed and polished.
The combination of moulding production, water-jet cutting, and the large selection of marbles and bonding paste allow for almost infinite customisation with a minimum order size of just a few square metres. The design can be developed within 2 formats.
Currently, industrial production allows the supply of slabs cut from blocks, or characteristic tiles made from moulds of different sizes. Rialto is made using the latter technique, the only one that allows for precise, large-scale design, and bespoke production. The Rialto series is composed of water-jet-cut marble inserts in calm and balanced colours: Bardiglio, Rosa Perlino, Bianco Carrara and Breccia Sarda.
The production of terrazzo tiles is not only bespoke, but also avoids further processing after the physiological curing of the cement, as well as a more streamlined logistics and faster installation.